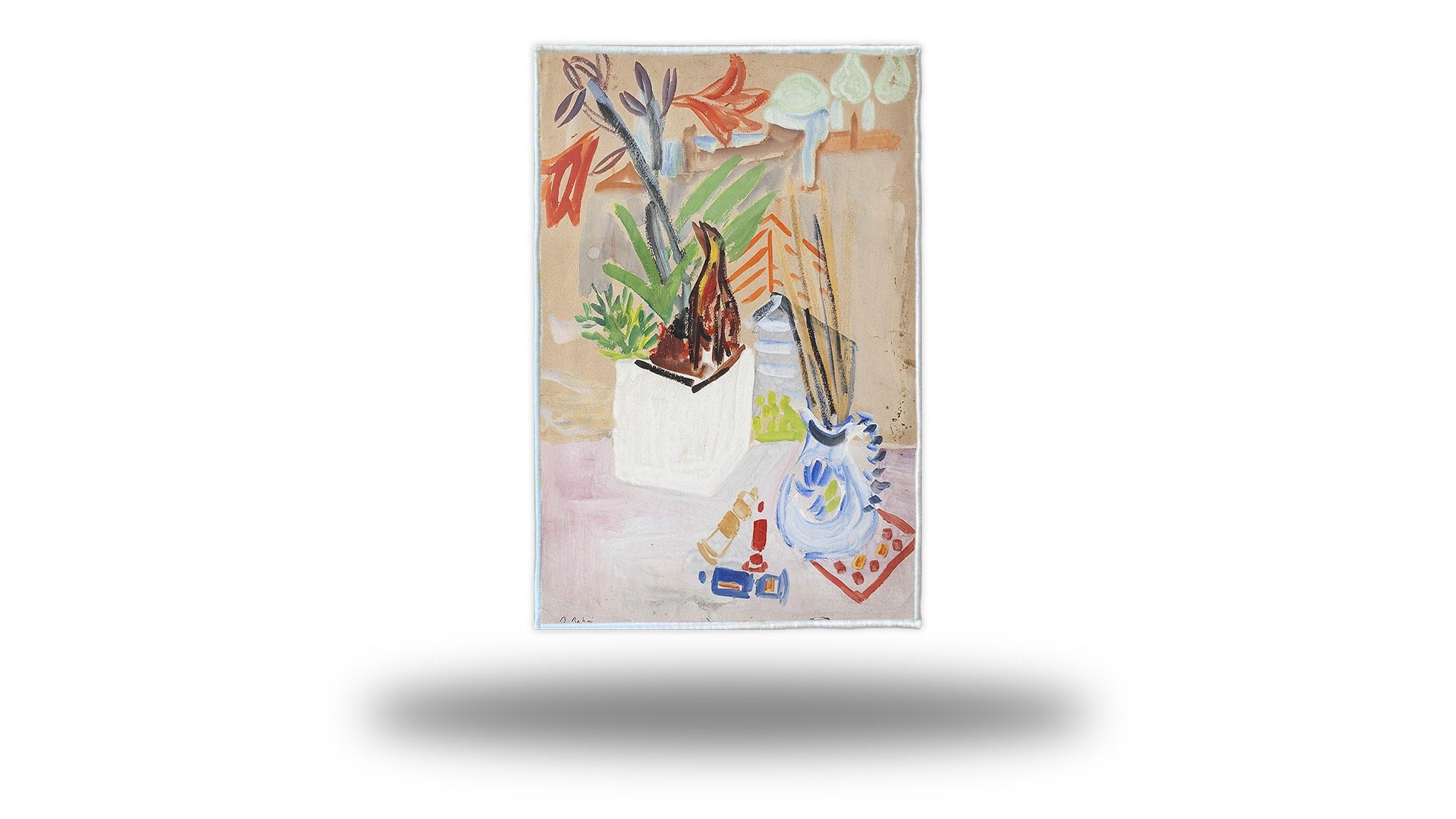 Modern Semi-Abstract Artsy Rug Inspired by Still Life, Bedri Rahmi Eyuboglu
Sale price

$1,990.00
Regular price
(/)
---
Elevate your living space with a masterpiece that transcends traditional interior décor – the Art Series Collection by Kilim Couture New York. Immerse yourself in the world of luxury as we seamlessly blend art, tradition, and craftsmanship to bring you a rug that is not just underfoot but also under the spotlight.

Our rug is a tribute to the renowned Turkish artist Bedri Rahmi Eyuboglu (1911-1975), celebrated for his exceptional contributions to modern Turkish art. Bedri Rahmi was a true visionary, a master of various mediums including painting, sculpture, and poetry. His Still Life paintings, in particular, stand as a testament to his artistic genius.

In the captivating design of this rug, we pay homage to Bedri Rahmi's distinctive style. His Still Life works often featured everyday objects, such as fruits, flowers, and household items, brought to life through vibrant colors and expressive forms. The rug captures the essence of Bedri Rahmi's paintings, skillfully recreating their vivid and bold use of color, as well as their abstract and semi-abstract compositions.

Bedri Rahmi Eyuboglu's art was a harmonious fusion of traditional Turkish influences and modern European aesthetics. Influenced by the Impressionists and Post-Impressionists, his paintings exhibit a mastery of color and light. Additionally, his deep-rooted love for Turkish heritage and nature frequently served as inspiration for his Still Life works.

By choosing this pastel-colored and abstract rug, you not only bring a work of art into your home but also contribute to the rich tapestry of Turkish art history. This rug is a testament to Bedri Rahmi Eyuboglu's innovative approach to the genre, and it continues to be celebrated by art enthusiasts and collectors worldwide.

Crafted with precision and passion by our skilled artisans, this rug is an embodiment of luxury, culture, and artistry. Let it grace your living space, spark conversations, and be a timeless reminder of the intersection of tradition and modernity.

Order yours today and step into a world where luxury meets tradition. Please note that due to the custom nature of this product, it may take some time for your unique masterpiece to be meticulously crafted and delivered to your doorstep. Your patience will be rewarded with a work of art that will grace your space for generations to come.
Age: New

Condition: Excellent (Handwoven)

Dimensions: Made to order (Contact us for shipping estimates)

Floor Heating Safe: Yes

Material: Wool on cotton

Origin: Turkey

Primary Color: Polychromatic

Product Care: Vacuum clean gently or professional cleaning

Shape: Rectangle

Style: Contemporary style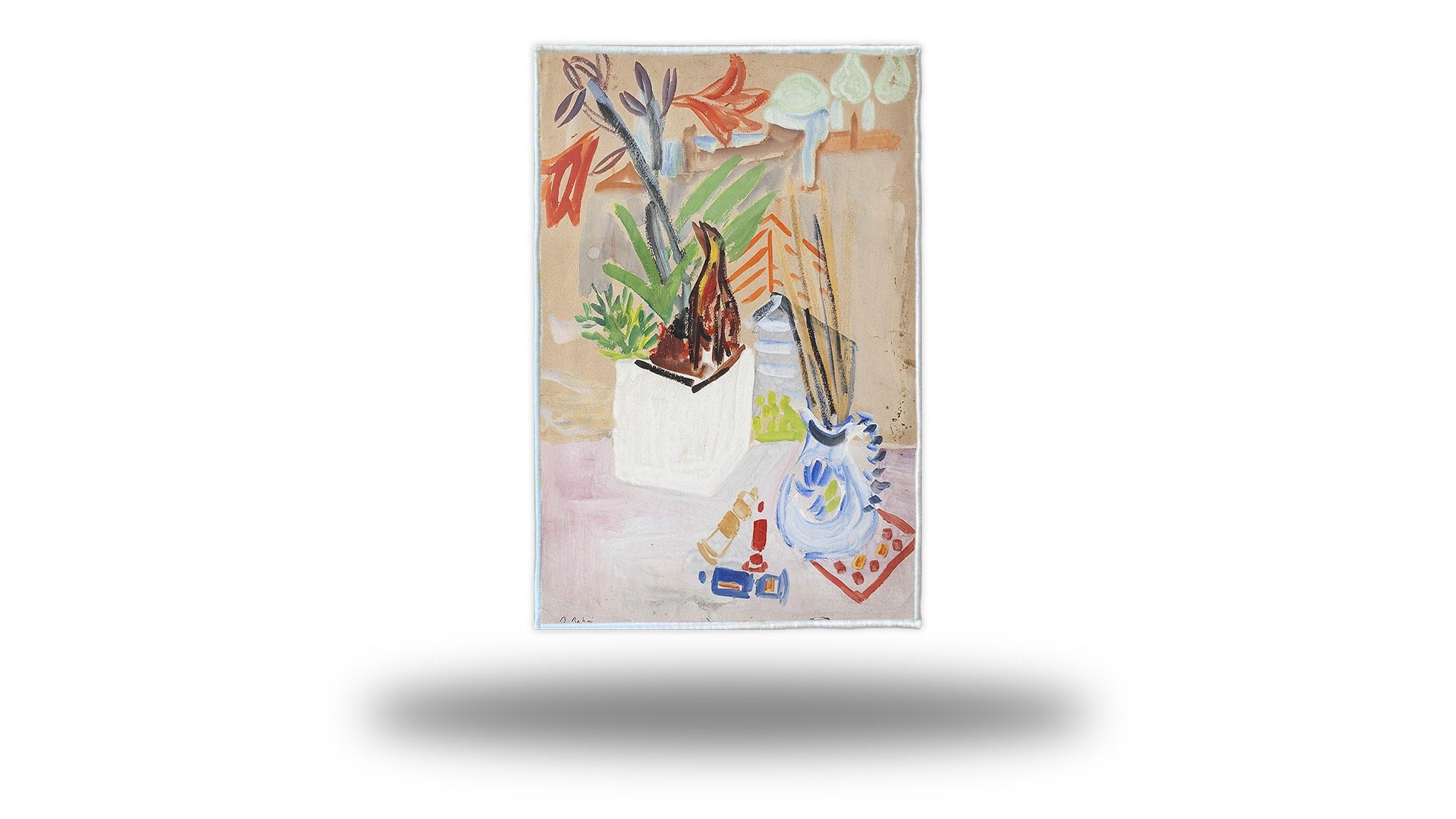 Modern Semi-Abstract Artsy Rug Inspired by Still Life, Bedri Rahmi Eyuboglu
Sale price

$1,990.00
Regular price
Choose options